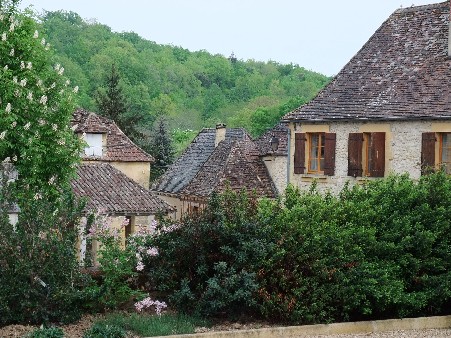 The tiny village of Lanquais (population 350) is located very near the majestic Dordogne river, about 18 km from the market town of Bergerac. With its narrow streets of houses mainly built of old mellow sandstone under high-pitched tiled roofs, the village looks out over woods and fields, with the medieval Chateau de Lanquais across the valley.
The Chateau has been one of the strongholds of Aquitaine since medieval times. The centre has a church, a school, a shop, an auberge and a post-office (open 6 hours per week – but open nevertheless!!)
The village of Lanquais, (featured in the guide 'The Most Beautiful Villages in the Dordogne') is an ideal base for a villa holiday to explore South West France.
Located in the heart of the Dordogne, (Aquitaine region), it is within easy reach of the beautiful medieval town of Sarlat, the busy centre of Perigueux, and the ancient sites of Lascaux and Les Eyzies. The village is in the Bergerac wine region and is only a short drive ( approx. 45 mins) from St Emilion in the Bordeaux area. The medieval market towns of Issigeac and Montpazier are also nearby.
In a small valley, away from any main roads, it is a haven of peace and tranquillity and yet only 15 minutes drive from Bergerac airport, 2 hours from Bordeaux and the coast, or three hours from Toulouse.
The characterful and reasonably priced restaurant the 'Auberge des Marronniers', has an outside terrace for the summer season. Dynamic, young owners and fabulous, fresh local cuisine.
The nearest town is the 'bastide' town of Lalinde, only about 8 min drive from the village. This town has some excellent food shops and a very good small supermarket, with a full scale market every Thursday and smaller market on Saturday mornings.
Only 500 yards from the village centre is a large lake, ideal for walks or picnics.
Also close-by is the 15th Century Chateau de Lanquais, open for visits in the Summer.